Listen Surah Rehman By Qari Basit Daily For Cure of Complex Diseases-Wonderful Effects of Surah Al Rehman
We all know the value and importance of Holy Quran being one of the most divine books for the benefit of mankind lifestyle sent by Allah Almighty. This book was simply revealed on last Prophet Hazrat Muhammad (SAWW) by Allah Almighty. The main determination of this book revelation has been to let the Muslims choose the accurate path for the human race. On the contrary side, this book has brought some amazing benefits for the human body and health as well. Through Surah Rehman, hence you will be able to treat certain diseases in your body in which we have bacterial diseases or cancer as well as Hepatitis. Even the doctors has accepted this fact that this Surah Rehman can show some amazing wonders on the human body against the treatment of different types of complex ailments.
The total duration for reciting Surah Rehman is around 45-50 minutes as without the recitation of translation. There have been so many doctors in the medial field who have experienced the magical benefits of Surah Rehman as they have recited it on the patients who are in the ICU center. Some of the people merely take it as a myth and believe that there is no such reality in it. But that's not true at all. in different seminars, so many doctors have shared their experience in which they have discussed the whole scenario that how few of their patients have been saved from diseases with the recitation of Surah Rehman.
Through the use of Surah Rehman you can cure so many different diseases in which we have heart attack, diabetes, tumor or the condition of paralysis. According to health doctors and religious scholars, this Surah has a direct impact on any human brain system as well as heart cells functioning. A medical research based on the health benefits of the Surah Rehman is the clear proof of the fact that how this Surah has shown excellent benefits to the human health.
If you want to stay physically healthy and fit, you just have to recite the Surah Rehman at least maximum time on daily basis. You should close your eyes and understand each and every single word of this recitation. You should say it thrice times in a day or you can even choose to recite it with every single prayer time. In just the time span of 9-10 days as you will feel a sudden improvement and change in your health.
Hence apart from Surah Rehman, there have been so many uranic verses which are known to help a human body to get free from all sorts of diseases. You can even do a research on all the Surah and you will be able to get to know about what sort of benefits each single Surah can give to your body.
If you are suffering from any sort of diseases, then without wasting any time make a habit of reciting Surah Rehman as thrice times in a day.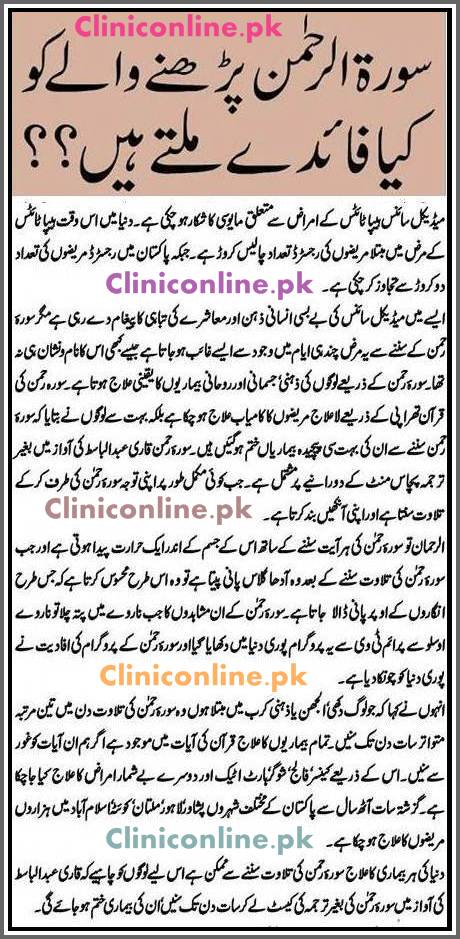 Amazing Health Benefits of Listening Surah Rehman-Latest Research by Pakistani Doctors