Child Vaccination and Immunization in Pakistan Benefits & Schedule For Kids of Up To Five Years
On 10th Nov, this child vaccination and immunization day is celebrate. For the information, in all over the world, we have course of seven injections which are made for the children and with the help of these injections, a child can remain protected from total ten fatal diseases. You can call on this number 0800-99-000 and have more information about this vaccination and immunization schedule.
Details of Child Vaccination, Immunization Benefits And Schedule in Pakistan
The first injection is given at the time of child birth, polio drops are also given and injection for the safety against hepatitis B and TB are given.
Then the second injection is given when the child is 1.5 months old, he is given polio drops and injection for the safety and protection against pneumonia.
When a child is 2.5 months old, then he is given the third injection, the injection for pneumonia and polio drops are injected into him.
Upon reaching to 3.5 months of age, again the injection for the ultimate safety against the disease of pneumonia is given and polio drops are served to the child.
Then comes the time of fifth injection and this injection is given when the child reached to age 9 months old phase. This injection is for measles.
Those child who are 15 months old, they are given the next level injection for measles safety.
In between the age of 4 to 5 years, the last and seventh injection is given and this injection is for diphtheria protection.
How Vaccine Work?
These vaccines are just like that of a training course, this course is given to the kids so that their immune system can become and be made stronger. It is these vaccines which prepare and set your body to fight against the disease and does not expose you to any of the disease symptoms.
WHO Verdict on Child Vaccination, Immunization Benefits
The world health organization WHO has strongly recommended that all kids should pass through the process of vaccination. This process and the phase of injecting vaccines is important for the health and overall safety of their lives. WHO body has urged to the countries that no negligence should be shown in this vaccination, immunization area and all kids should be properly vaccinated on time. Only those children become the victim of fatal diseases because their parents do not complete the vaccination course which is made and prescribed to the kids. Now more easy measures are devised by the world health organization so that kids can remain 100% safe and healthy.
This is the overall schedule information about this child vaccination and immunization planning which is working in Pakistan. Make sure that your child pass his self from this course and injection process. These injections are very important for his health and safety, never miss any part of this course and if you have any questions on this child vaccination and immunization schedule, you can contact us.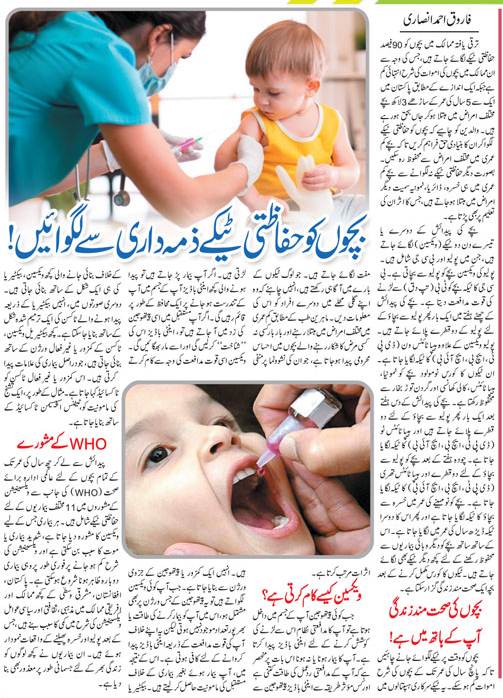 Child Vaccination, Immunization Benefits & Schedule in Pakistan