Career & Scope of B Category (Diploma in Pharmacy) Subjects, Jobs & Golden Tips
Pharmaceutical business is one of the most profitable businesses of the world. Students who have cleared the FSc Pre Medical or A-Level can get admission in Pharm-D or B Pharmacy degree programs. Students who have clear matric or O-Level with science subjects can also join this field as assistant pharmacists by getting admission in B Category course. B category is a professional diploma, which can help you in opening a medical store. You may get the jobs of salesman too in pharmacies. Pharmaceutical companies may also hire you as assistant pharmacist or sales representative.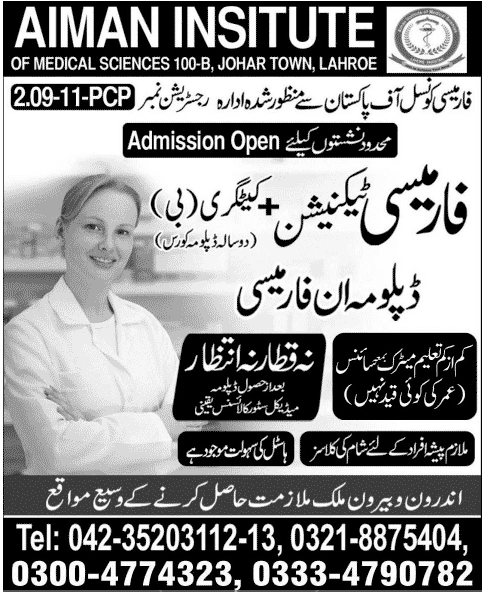 Scope of B Category (Diploma in Pharmacy) in Pakistan, Career, Jobs & Tips
You may also win the job in government and private hospitals. Now herbal and homeopathic pharmaceuticals are also hiring B Category diploma holders due to new strict rules and regulations issued by health department. It's an ideal course for DHMS and FTJ diploma holders too if they are interested in the pharmaceutical business. Medical store also hire the diploma of B Category holders. So opportunities are immense for you. It is specially a recommended program for those students who want to get a professional qualification after matriculation with science subjects. You must get admission in FTJ or DHMS too side by side this B-Category.
There is no age limit for getting admission in diploma in pharmacy course. After getting this course you will be called pharmacy technician. Special evening classes are conducted for on job students. Hostel facility is also provided. There is also no issue of marks in matriculation as E grade holders may also get admission in diploma in pharmacy. Pharmacy technician can also get jobs abroad specially in Middle East countries. Duration of the Diploma in Pharmacy is just 2 years. Students are given practical training too in laboratories. You will be able monitor the medicine production process after getting this diploma in Pharmacy as all main subjects of pharmacy are taught in B Category course. Stay connected with cliniconline.pk for guidance about scope of different vocational training diplomas in Pakistan.