All About Hijama Treatment-Importance of Cupping Therapy in Islam (Guide in Urdu & English Languages)
Hijama is also known as cupping treatment. It is basically a non-invasive and safe economical treatment for preventing and curing the diseases. This treatment was used firstly by the Chinese tradition where it was employed for treating different medical complications such as colds, lugs infections or pain in various parts of the body.
In Arabic, the world Hijama is about drawing out. In the modern medical world, this treatment has been used alternative way for the sake of treating various diseases as well as bodily disorders.
When You Should Perform Hijama Therapy?
According to Islamic concept, Hijama treatment should be practiced over the odd days of Lunar Calendar. Specific days which are prescribed for this treatment are Mondays, Tuesdays as well as Thursdays. Sunnah Optimum days when you should perform Hijama treatment are 17th, 19th as well as 21st days of Lunar Calendar.

Importance of Hijama Treatment in Islam
On the basis of what the whole world is letting you know about the cupping treatment, it is very much important to have a look at its concept from the Islamic point of view. Here we have explanatory details about importance of cupping treatment from Hadith perception:
"Indeed in hijama (cupping) there is a cure". – Saheeh Muslim
"Indeed, the best of remedies you have is hijama (cupping)". – Saheeh Al Bukhari
"Hijama is the most helpful procedure for human beings to cure themselves". – Saheeh Al Bukhari and Saheel Muslim
The emerging importance of the Hijama treatment within divine guidance can often be stressed over the word which is somehow related with Prophet SAW at the Israa night by angles: "O Mohammed, encourage your ummah (people) to do hijama (cupping)". – Saheeh, Sunan Tirmidhi.
It is an interesting fact to note that Prophet Muhammad (Allah's peace be upon him) used to perform the act of cupping treatment for the headache pain. He even used this treatment for relieving himself from the pain of neck, sprain, hip or shoulder pain.
Abdullah ibn Abbas (may Allah be pleased with him) once reported that the Prophet (Allah's peace be upon him) said: "I did not pass by an angel from the angels on the night journey except that they all said to me: Upon you is cupping (hijama), O Muhammad." [Saheeh, Sunan ibn Majah].
What are the Benefits of Cupping Treatment in Islam?
As we have already mentioned that Cupping is even known by the name of Hijama. Cups which are used for this treatment are made out of bamboo, plastic and mostly of glass. It is extremely helpful to relieve the body pain and let the human body get away from all sorts of muscle pain. Plus with this treatment you can also relieve your lugs diseases as well as let your skin stay healthy. Furthermore, it is also helpful as in relieving your digestive problems and also heal your Urinary Diseases.
You should not try hijama treatment at home. Get cupping treatment only from a expert.  On this page we shall also give all the information about cupping treatment or Hijama treatment in Urdu language too.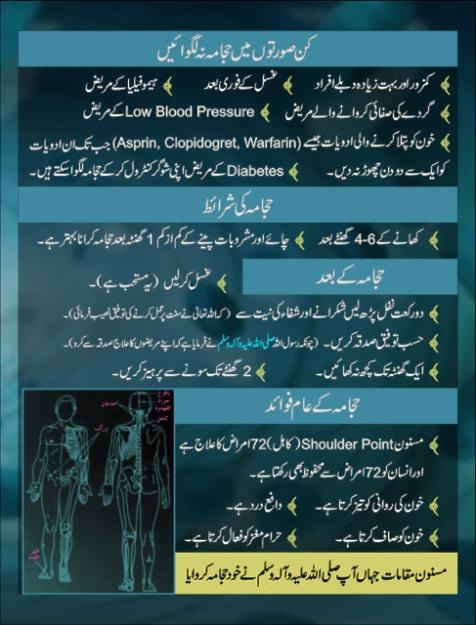 What is Cupping Therapy or Hijama Treatment? Importance in Islam (Urdu & English Guide)