Career & Scope of Diploma in Homeopathic Medical System in Pakistan & Abroad 
DHMS ia one of the best diploma courses in Pakistan. This four years diploma can make you a self employed person. Females and those students who have craze for becoming doctor in spite of having bad marks in FSc or Matriculation must go for this great option. Duration of this diploma course is just 4 years, while medium of instruction is also Urdu. There is no issue of merit and attendance. You may get admission in DHMS diploma any time during a session. Fees of homeopathic medical colleges are also more than reasonable. Average monthly fee of DHMS is just 1000 PKR.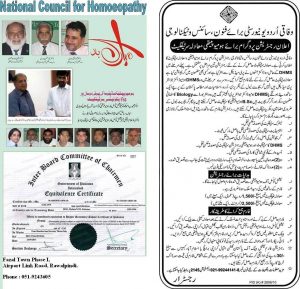 Scope of DHMS in Pakistan-Career, Eligibility, Subjects, Jobs & Admission
Homeopathy is relatively new method of treatment but at the same time it is more effective than allopathic and traditional medicines. Homeopathic medicines have no side effects. Fortunately now government of Pakistan has upgraded the status of DHMS as earlier this diploma was considered equivalent but now it is considered equivalent to BSc. DHMS diploma holders will have to appear in just compulsory subjects of FSc and BSc for getting these degrees/certificates. BHMS is a higher degree in Homeopathy as it is equivalent to MBBS and MSc. We shall soon write a detailed article on scope of BHMS on cliniconline.pk.
DHMS Subjects
All basic subjects of medical science are taught in DHMS like Anatomy, Physiology, Pathology & Microbiology, Hygiene & Public Health, Gynecology & Obstetrics, Psychology, Forensic Medicine & Toxicology, Pharmacy and Minor Surgery. Other than these basic subjects you will have to study Materia Medica, Homeopathic Philosophy, Case Taking & Repertorisation and Comparative Materia Medica. You will also have to appear in practical exam of these subjects.
Case Taking and Repertorisation (Viva Voce)
Pathology & Microbiology
Pharmacy
Anatomy
Physiology
Materia Medica (Viva Voce)
Pharmacy in this course is just related to homeopathic pharmacy. There is no separate course for pharmacy in Homeopathic. Homeopathic doctors are considered homeopathic pharmacists too.
Who Should Get Admission in DHMS Course?
1-Nurses should go for this course for becoming doctor.
2-Psychiatrists and psychologists should also get admission in DHMS, as in homeopathy emphasis is given more on mental symptoms rather on physical symptoms. Believe me that homeopathic medicines can do wonders in psychological cases.
3-Its an ideal field for household females as they can earn money by practicing at home.
4-Its an ideal diploma for all paramedical diploma holders.
5-All those persons who have interest in pharmaceutical business must also join this course.
Career  & Scope of DHMS in Pakistan & Abroad 
There is a great scope of DHMS in Pakistan as our people love this method of treatment. You guys may get the BHMS degree in just 3 years. You may open your own homeopathic medical store or pharmaceutical company. You may also open your online clinic just like us. You may also get government job of 16 grade in public dispensaries and hospitals. You may also get a job in Homeopathic pharmaceutical companies as sales representative or quality control officer.
You may write columns in newspapers and magazines. If you have good creative writing skills then you may also enter in the world of publishing as a homeopathic writer or publisher. We are taking about 2000 rupees as our fee just because of our 20 years experience and practical knowledge in this field. Now its your turn to shine in the field of homeopathic medical science, believe us that sky is the limit for you in tis field, but you will have to work hard in the initial stage of your career.
We suggest you to get admission in B category course too as its a 2 years course in Pharmacy and it will help you for entering in the field of pharmaceutical industry. Medium of instruction in this course is also Urdu.Talented students must go for 3 years BHMS condensed course after getting the DHMS diploma. Remember that regular education has its own importance, so appear in compulsory subjects of FSc and BSc too. It will open new doors of jobs for you in foreign countries too.
FTJ is also a recommended diploma for those who have high plans for their future. We shall soon guide you in detail about FTJ diploma. Stay connected with cliniconline.pk and its facebook page for guidance about different career options for science students of matriculation and pre medical students of F.Sc and O-Level. We shall welcome your queries about career and scope of DHMS. .