How to Keep Your Gums and Teeth Healthy? Health Tips 
It is important for the person to keep their teeth and gums all healthy. Here is how you can do that! Below are the easiest methods for you and they will guide and assist you as to how to get stronger and healthy looking teeth and gums. Below mentioned are the super easy tips for you:

Avoid Using Substandard Toothpastes
You should not at all use any of the substandard toothpastes. They will only damage your teeth health. What you can do is to opt for miswaak method. This method will give you a stronger dental health. On the other hand, if you will clean your teeth by using a coal, then you will get a brightening effect. Similarly, by making homemade natural pastes which include the use of lemon, this is also a great technique to make your teeth and gums all healthy.
Have Cheese to Remove Acidity Touch from Your Teeth And Gums
If you want to remove and get rid of acidity touch from your teeth and gums, then have cheese. Like after your meal, have a single piece of cheese and make your teeth all powerful.
Fish Make Your Gums And Teeth Healthy
It is also because of the consumption of fish that your teeth, gums will look healthy. Have fish during your lunch times and you will notice that your teeth will start to become healthy.
Oranges Avoid Making Your Gums to Get Swollen
By consuming oranges, this is a sure, proven fact that oranges can make your gums to get rid of swollen issues. You will not get swollen gums at all by eating oranges.
Have Those Fruits Which Naturally Clean Your Teeth And Gums
You should have salad, carrots, apples on a daily basis, these food items will naturally clean your teeth as well as gums.
Have Green Tea And Black Tea
This is proved that if you will have black tea and green tea on the regular basis, then your teeth and gums will get no plaque issue.
Chocolate Keeps Your Enamel Stronger
To keep your enamel stronger, it is better to have chocolates. Eat quality chocolates and make your enamel 100% stronger.
Have Water
All dental experts have recommended that if a person is going to drink lots of water, then his teeth and gums will hardly get a plaque problem on them.
Avoid Eating Toffees
You should avoid eating toffees as much as you can. They will just damage your teeth and your teeth will start getting yellow as well.
Stop Drinking Carbonated Drinks
It is suggested that one should stop drinking carbonated drinks, these drinks will make your gums unhealthy and your teeth will start to deteriorate too.
Avoid Consuming White Bread
On the other hand, try to avoid consuming white bread as much as you can. This white bread has lots of sugar content in it which is harmful for your teeth and gums.
Stop Drinking Too Much Cold Water
Lastly, even during summer season, you should avoid drinking too much cold water. Extreme cold water will only make your gums totally damaged.
Keep connected with us for more health tips for keeping your gums and teeth healthy.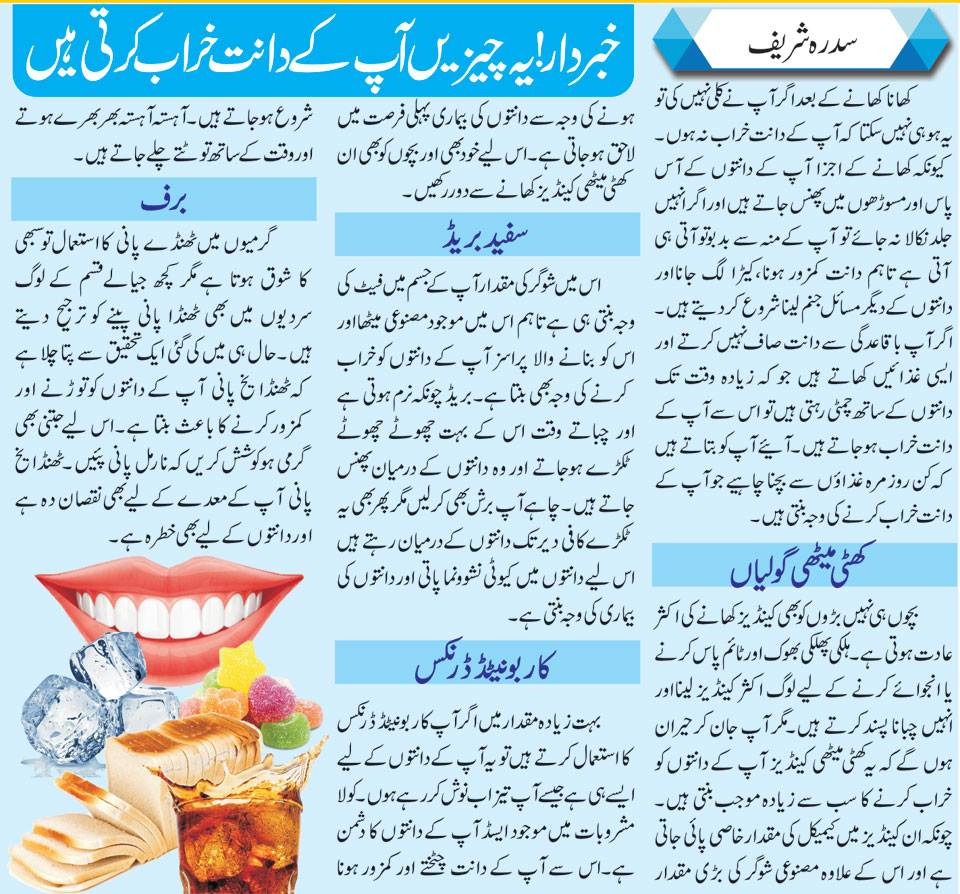 Tips To Keep Your Teeth & Gums Healthy (Urdu-English)